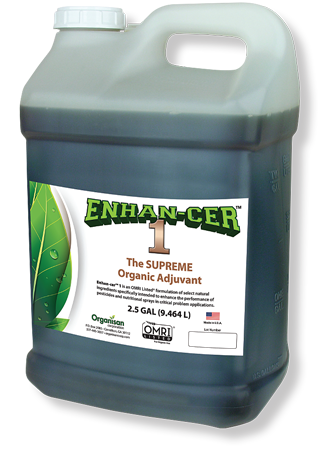 Enhan-cer 1
The SUPREME Organic Adjuvant
Enhan-cer® 1 is an OMRI Listed® formulation of select natural ingredients specifically intended to enhance the performance of pesticides and nutritional sprays in critical problem applications.
EXTREMELY LOW USAGE RATE

Apply at ANYTIME in the Growing Season

The SUPREME Organic Adjuvant proven to drastically increase the efficacy of pest, weed and nutritional sprays.

For row crops, fruits, vegetables, ornamentals, nut crops and turf.
What is Enhan-cer® 1?
Enhan-cer® 1 soil adjuvant, combined with any current crop treatment, has been proven to be a powerful tool for increasing your overall production by decreasing transpiration up to 50%, extending your growing season, and overall improving the health and vigor of your plants.
Not designed for aquatic use.
OMRI Listed®

The OMRI Listed® Seal assures organic operators that Enhan-cer® 1 has passed OMRI expert review for use as an input for organic production and is compliant with certified organic production. Enhan-cer® 1 is an "input product". It can be used to grow, or produce organic foods, feed, or fibers including substances such as fertilizers, pesticides, and other materials used on the farm.
Enhan-cer® 1 appears on the OMRI Products List®.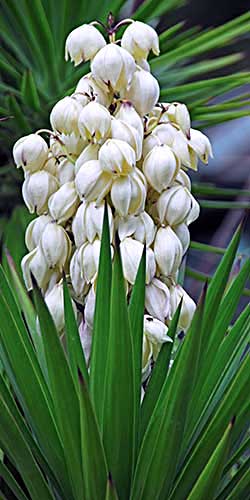 Advantages of Yucca and Chitosan
Yucca is a staple ingredient in the food industry and is also used to prepare natural shampoos, cosmetics and liquid soaps. The same properties that make it safe and effective for these products, combined with its excellent wetting characteristics, make yucca a superior agricultural surfactant. Its biosustainabilty supports Organisan Corporation's mission to provide green and environmentally friendly products to the industry.
Chitosan is a natural cationic polymer primarily derived from shellfish. Chitosan's cationic feature brings excellent adjuvant sticker qualities to this formulation through its ability to chelate organic compounds and minerals. Your result is more healthy plants with increased vitality, vigor and yield.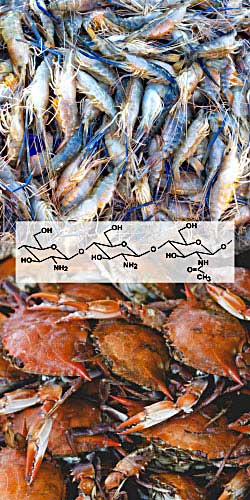 Start Reaping Your Benefits Today!
Row Crops & Vegetables
The use of Enhan-cer® 1 in row crop production when used as an adjuvant with your existing treatment protocols provides several advantages. Harvest results showed a more than 40% increase in yield from the Enhan-cer® 1 treated rows over rows receiving conventional treatments. It is known to chelate nutrients and minerals and to enhance the plants health and vigor.
Fruits
Enhan-cer® 1 may be used as an additive in your surface coating protocol on fresh fruits and vegetables to decrease the transpiration loss. Yucca products have GRAS status, making them FDA-approved for use in humans.
Vineyards
In viticulture, addition of Enhan-cer® 1 to IPM protocols leads to much greater yields and significantly healthier vines.
Introducing CitriSan™ Citric Acid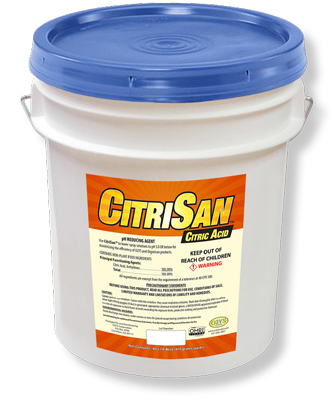 Use CitriSan™ to lower spray solutions to pH 5.0 OR below for maximizing the efficiency of Organisan products in all your Nematicide, Fungicide, Fertilizer, Herbicide, Insecticide, and Nutritional Sprays.